Google has provided Android/Pixel security updates for February 2020. All supported Pixel devices running Android 10 will receive these software updates as part of the February 2020 OTA, which begins rolling out to users today. We encourage you to check your Android version and update it to receive the latest features.
Google Pixel 4XL Tips and Tricks That You Need to Know
With the latest security update dated today yesterday's rollout was early, which is not a bad thing when it comes to security. The security update this month was only small with only four Qualcomm components of moderate security being patched — all is well?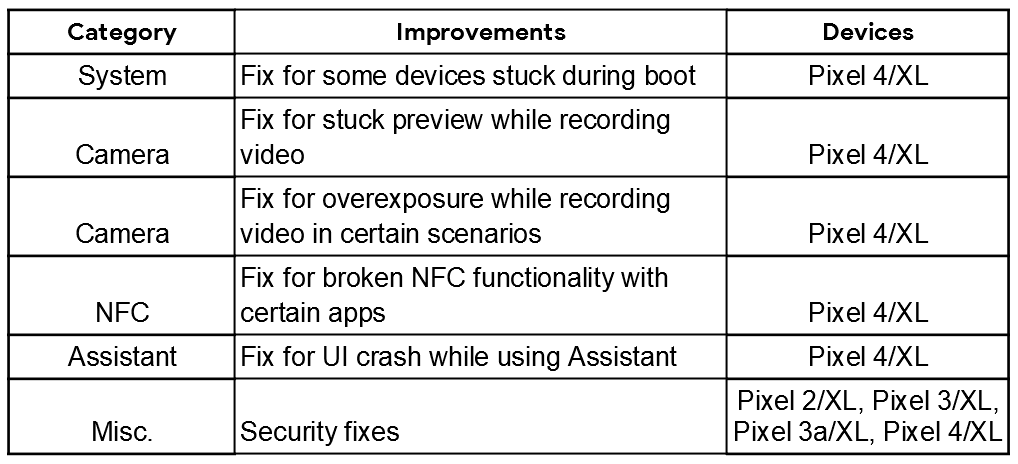 The functional patches (ie. bug fixes) this month included a couple of camera fixes, an NFC, an Assistant, and a system fix, all for the Pixel 4 and Pixel 4 XL.
Build Number: 

Pixel 2 (XL): QQ1A.200205.002
Pixel 3 (XL): QQ1A.200205.002
Pixel 3a (XL): QQ1A.200205.002
Pixel 4 (XL):

Global: QQ1B.200205.002
Select JP & TW carriers: QQ1C.200205.002
JP (NTT Docomo): QQ1D.200205.002
The update should have already hit your device already. If it hasn't head into updates in your settings app and check for updates. Of course, you can always also hea don over to the factory image page or the OTA package page, download and install the update manually.
For The Latest Activities And News Follow Our Social Media Handles: